THE EXECUTIVES' ASSOCIATION OF GREAT BRITAIN
CREATING BUSINESS TOGETHER SINCE 1929
The EAGB exists to help each other. If that sounds like a philosophy you can support, come to a meeting.
Meet other business leaders in a relaxed but professional environment to forge the relationships that will help you to grow personally and professionally.
THE MIKADO
12:00 sharp
We know how hard it is to enter a room where you don't know anybody so we make it easier for you.
Sylvia Baldock will be our host this month. As well as getting us all talking, she'll be focusing on how to be a generous networker.
DR RUTH LEA
Noted economist Ruth Lea CBE has been an independent non-executive director of the Arbuthnot Banking Group PLC since 2005 and the Group's Economic Adviser since 2007.
She is the author of many papers and articles on economic issues, has been a Governor of the London School of Economics and Council Member of the University of London.

She is also a notable supporter of leaving the EU. After two and a half years, what will she make of progress so far?
Meet other business professionals in a friendly environment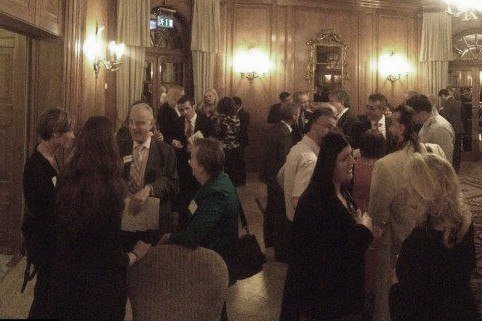 THE FORMAT
12:00 The Mikado, our unique networking workshop, opens the afternoon. It offers a mix of one to one discussions, tips, and a chance to ask for help, advice or specific introductions.
12:45 At our pre-lunch Drinks Reception, 30 minutes of open networking offer the chance to meet or catch up with more exceptional people.
13:15 A superb 3 course meal with wine is served. With planned seating and small tables, there are more opportunities for introductions and discussion.
14:30 (appox) We have first-rate speakers who share their knowledge with us. The talks are like mini master classes and you can always take away a little nugget of information.
15:15 Close
THE VENUE
We meet at the beautiful Dorchester Hotel on Park Lane in London.
With its elegant rooms, delicious food, and central location, it provides the ideal environment for a relaxed meeting.
The service is impecable, and the ambience is relaxed.
THE SPEAKERS
We have a terrific variety of speakers from the world around us, and not just business. In the past year alone, we've had someone from a think tank, a foremost economist, an artist, restaurateurs, an aquaculturalist, and a scientist who grows marijuana for a living.
Here is who we have lined up for the coming months:
February 14 - Dr Ruth Lea
March 14 - Kate Adie
May 9 - Maggie Semple
NON-MEMBERS ARE WELCOME TO ATTEND TWICE
AIDAN DOW, Aidan Dow Wealth Management
Aidan is passionate about helping people with their financial planning and investing. Our clients benefit from his 24 years of industry experience. Aidan also has top of the industry qualifications: Chartered Wealth Manager; Chartered Member of the CISI and DipPFS. This gives our clients great confidence.