THE EXECUTIVES' ASSOCIATION OF GREAT BRITAIN
CREATING BUSINESS TOGETHER SINCE 1929
The EAGB exists to help each other. If that sounds like a philosophy you can support, come to a meeting.
Meet other business leaders in a relaxed but professional environment to forge the relationships that will help you to grow personally and professionally.
december 13 - SOLD OUT
You can no longer book online. If you would like to be on the waiting list, please click.
THE MIKADO
Hosted this month by Andrew Priestley
Andrew is an award winning
business leadership coach, qualified
in business psychology and managing
director of The Coaching Experience.
He developed an award winning leadership development methodology based on five traits of highly effective leaders, and he will give us a taste of his programme, all the while helping us to meet as many people in the room as possible.
RUNNING ORDER FOR THE DAY:
12:00 The Mikado
13:00 Reception
13:30 Lunch
15:15 close
£98 +VAT for members
£110 +VAT for non-members
Full list of coming dates and Speakers
GARRY SMITH
THE MEDAILLE TRUST
Last year in the UK, over 5,000 people were referred to the Government as potential victims of slavery – a 35% increase on the previous year (source: National Crime Agency). Since 2015, British companies over a certain size have been required to report on slavery in their supply chains.
Garry Smith is the CEO of the Medaille Trust, the largest specialist provider of safe house beds for victims of modern slavery in Europe. With the issue now on more and more agendas, he will highlight some of the issues involved and, with it being Christmas, some of the good news stories of survivors of modern slavery that the Medaille Trust have worked with.
After an initial career in the public sector, Garry Smith forged a career in the charity sector where he took up his first CEO role aged just 30. He then ran a consultancy business for ten years which gave him unique insights into management practices and strategy across a broad range of voluntary and public sector organisations, as well as blue chip businesses in the UK, Europe, USA and Africa.
Garry returned to work where his heart is, in the voluntary sector, in 2016 and is now CEO of the Medaille Trust, the largest specialist provider of safe house beds for victims of modern slavery in Europe.
We will be raising money for the Trust. If you have something which you would like to donate to a raffle, please get in touch with us.
Meet other business professionals in a friendly environment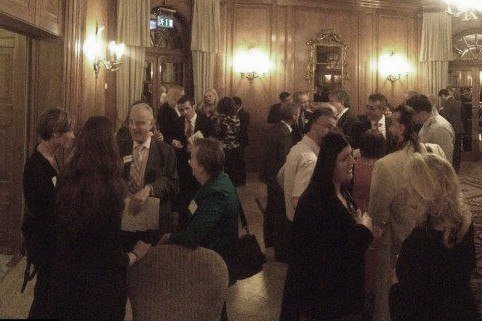 THE FORMAT
12:00 The Mikado, our unique networking workshop, opens the afternoon. It offers a mix of one to one discussions, tips, and a chance to ask for help, advice or specific introductions.
12:45 At our pre-lunch Drinks Reception, 30 minutes of open networking offer the chance to meet or catch up with more exceptional people.
13:15 A superb 3 course meal with wine is served. With planned seating and small tables, there are more opportunities for introductions and discussion.
14:30 (appox) We have first-rate speakers who share their knowledge with us. The talks are like mini master classes and you can always take away a little nugget of information.
15:15 Close
THE VENUE
We meet at the beautiful Dorchester Hotel on Park Lane in London.
With its elegant rooms, delicious food, and central location, it provides the ideal environment for a relaxed meeting.
The service is impecable, and the ambience is relaxed.
THE SPEAKERS
We have a terrific variety of speakers from the world around us, and not just business. In the past year alone, we've had someone from a think tank, a foremost economist, an artist, restaurateurs, an aquaculturalist, and a scientist who grows marijuana for a living.
Here is who we have lined up for the coming months:
December 13 - Gary Smith, The Medaille Trust
January 10 - Sian Sutherland, A Plastic Planet
February 14 - Dr Ruth Lea
NON-MEMBERS ARE WELCOME TO ATTEND TWICE
AIDAN DOW, Aidan Dow Wealth Management
Aidan is passionate about helping people with their financial planning and investing. Our clients benefit from his 24 years of industry experience. Aidan also has top of the industry qualifications: Chartered Wealth Manager; Chartered Member of the CISI and DipPFS. This gives our clients great confidence.