THE EXECUTIVES' ASSOCIATION OF GREAT BRITAIN
CREATING BUSINESS TOGETHER SINCE 1929
The EAGB exists to help each other. If that sounds like a philosophy you can support, come to a meeting.
Meet other business leaders in a relaxed but professional environment to forge the relationships that will help you to grow personally and professionally.
THE MIKADO
Hosted this month by Joanna Gaudoin
Joanna Gaudoin is Managing Director of Inside Out Image which works with professional individuals on their personal impact and relationship building skills since technical skills and knowledge alone will only carry you so far.
Joanna will help you to meet as many people as possible in the room, all the while imparting tips on how to present, both in formal and informal settings.
RUNNING ORDER FOR THE DAY:
12:00 The Mikado
13:00 Reception
13:30 Lunch
15:15 close
£98 +VAT for members
£110 +VAT for non-members
Full list of coming dates and Speakers
DR LORAND BARTELS
Senior Counsel, Linklaters
WHAT DOES UK TRADE LOOK LIKE POST BREXIT?
Dr Lorand Bartels is a Reader in International Law in the Faculty of Law and a Fellow of Trinity Hall at the University of Cambridge, where he teaches international law, WTO law and EU law.
Dr Bartels is a member of the ILA's study group on free trade agreements and helped to establish the Society of International Economic Law. He is a general editor of the Cambridge International Trade and Economic Law Series (CUP), an associate editor of the Journal of World Trade and an editorial board member of several journals, including the Journal of International Economic Law, the Journal of International Dispute Settlement and Legal Issues of Economic Integration.
Following the Brexit referendum, he joined Linklaters as Senior Counsel, and has since been advising the UK Government and other clients on trade law issues arising out of Brexit.
In 2016-7, he was a Specialist Advisor to the UK House of Commons Select Committee on International Trade, and he has also on numerous occasions appeared before parliamentary select committees in the UK, Belgium, as well as the European Parliament.
Meet other business professionals in a friendly environment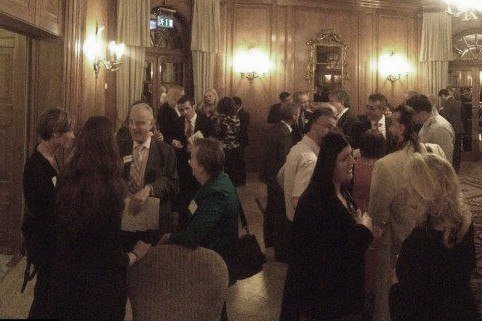 THE FORMAT
12:00 The Mikado, our unique networking workshop, opens the afternoon. It offers a mix of one to one discussions, tips, and a chance to ask for help, advice or specific introductions.
12:45 At our pre-lunch Drinks Reception, 30 minutes of open networking offer the chance to meet or catch up with more exceptional people.
13:15 A superb 3 course meal with wine is served. With planned seating and small tables, there are more opportunities for introductions and discussion.
14:30 (appox) We have first-rate speakers who share their knowledge with us. The talks are like mini master classes and you can always take away a little nugget of information.
15:15 Close
THE VENUE
We meet at the beautiful Dorchester Hotel on Park Lane in London.
With its elegant rooms, delicious food, and central location, it provides the ideal environment for a relaxed meeting.
The service is impecable, and the ambience is relaxed.
THE SPEAKERS
We have a terrific variety of speakers from the world around us, and not just business. In the past year alone, we've had someone from a think tank, a foremost economist, an artist, restaurateurs, an aquaculturalist, and a scientist who grows marijuana for a living.
Here is who we have lined up for the coming months:
October 11 - Dr Lorand Bartels on WTO
November 8 - Andy Ogden, English Fine Cottons
December 13 - Gary Smith, The Medaille Trust
NON-MEMBERS ARE WELCOME TO ATTEND TWICE
NYLE MATTHEWS, IMRSIV CREATIVE VIDEO
Nyle Matthews has collaborated with leading advertising, marketing, design and PR companies producing online video content for brands big and small. With 80% of all internet traffic set to be video by 2020, he believes all brands should be producing great videos to stay above the curve. He believes a video should do more than look pretty on a website and instead serve a purpose, communicate a specific message, engage and drive sales.