THE EXECUTIVES' ASSOCIATION OF GREAT BRITAIN
CREATING BUSINESS TOGETHER SINCE 1929
The EAGB exists to help each other. If that sounds like a philosophy you can support, come to a meeting.
Meet other business leaders in a relaxed but professional environment to forge the relationships that will help you to grow personally and professionally.
THE MIKADO
Hosted this month by Sylvia Baldock
Sylvia is an energetic and engaging business coach/trainer and networking specialist with over 30 years experience of training hundreds of people in personal development, confidence, motivation, public speaking, networking and business growth.
Sylvia will help you develop a powerful Personal Presence, which ensures you are seen, heard, heard of, and remembered long after you have left the room.
RUNNING ORDER FOR THE DAY:
12:00 The Mikado
13:00 Reception
13:30 Lunch
15:15 close
£98 +VAT for members
£110 +VAT for non-members
Full list of coming dates and Speakers
ANDY OGDEN
ENGLISH FINE COTTONS
The rebirth happened thanks to a strong working relationship between local government and industry and some pipe dreams in Barbados. With finance secured, Andy set about debunking the myths about the UK textile manufacturing industries, with the help of their 83 year old consultants.
It is a story of heritage, both physical and industrial.
Andy Ogden has over 25 year experience in developing technical textiles. He has been responsible for designing and developing new articles of protective apparel, within the military, nuclear, automotive and utility industries throughout North America, Europe, Middle East and Asia, many of which are now patented and have become industry standard products. 
Meet other business professionals in a friendly environment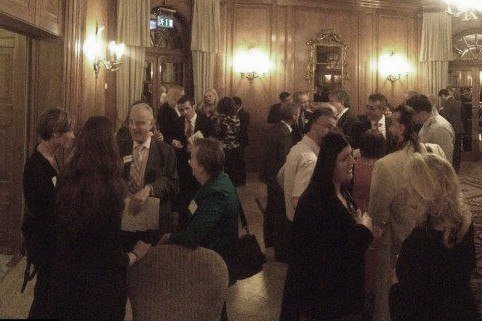 THE FORMAT
12:00 The Mikado, our unique networking workshop, opens the afternoon. It offers a mix of one to one discussions, tips, and a chance to ask for help, advice or specific introductions.
12:45 At our pre-lunch Drinks Reception, 30 minutes of open networking offer the chance to meet or catch up with more exceptional people.
13:15 A superb 3 course meal with wine is served. With planned seating and small tables, there are more opportunities for introductions and discussion.
14:30 (appox) We have first-rate speakers who share their knowledge with us. The talks are like mini master classes and you can always take away a little nugget of information.
15:15 Close
THE VENUE
We meet at the beautiful Dorchester Hotel on Park Lane in London.
With its elegant rooms, delicious food, and central location, it provides the ideal environment for a relaxed meeting.
The service is impecable, and the ambience is relaxed.
THE SPEAKERS
We have a terrific variety of speakers from the world around us, and not just business. In the past year alone, we've had someone from a think tank, a foremost economist, an artist, restaurateurs, an aquaculturalist, and a scientist who grows marijuana for a living.
Here is who we have lined up for the coming months:
October 11 - Dr Lorand Bartels on WTO
November 8 - Andy Ogden, English Fine Cottons
December 13 - Gary Smith, The Medaille Trust
NON-MEMBERS ARE WELCOME TO ATTEND TWICE
AIDAN DOW, Aidan Dow Wealth Management
Aidan is passionate about helping people with their financial planning and investing. Our clients benefit from his 24 years of industry experience. Aidan also has top of the industry qualifications: Chartered Wealth Manager; Chartered Member of the CISI and DipPFS. This gives our clients great confidence.